♪ Bee Gees- More than A Woman ♪
Espectacular de día, mágica por la tarde y sorprendente por la noche.
Spectacular during the day, magical in the afternoon and amazing by night.
Spectaculaire pendant la journée, magique l'après-midi et incroyable la nuit.
Spettacolare durante il giorno, magica nel pomeriggio e incredibile la notte.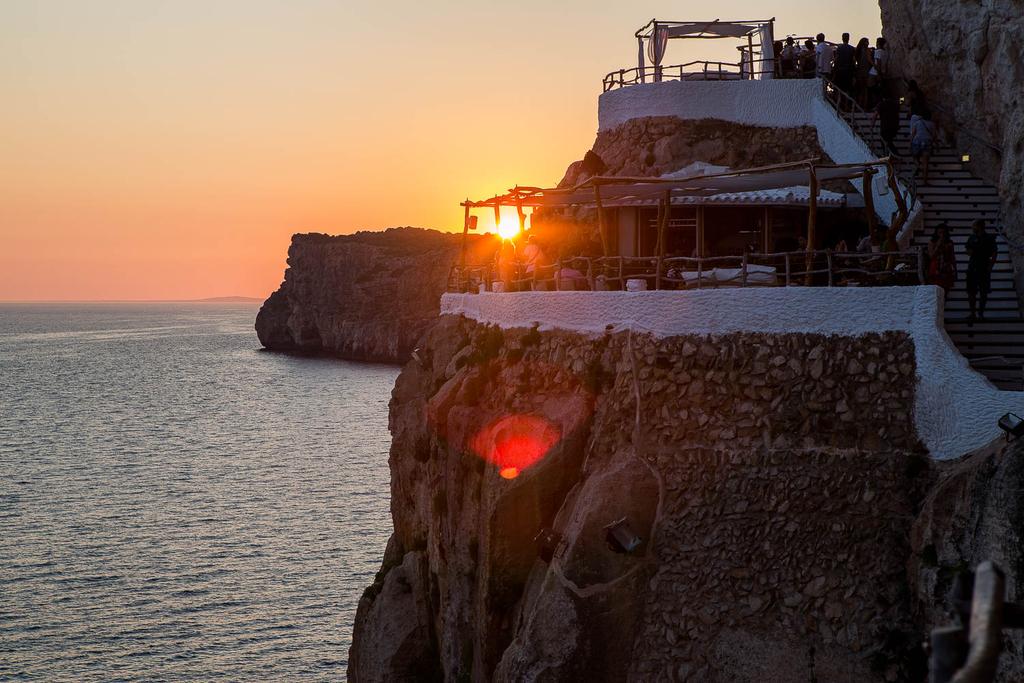 La Cova d'en Xoroi, situada en la Cala en Porter al sur de la isla de Menorca, es uno de esos lugares que cuando lo ves en fotos piensas "tengo que ir aunque sea una vez en mi vida".
Este atípico sitio, reúne varios conceptos: bar, discoteca, cueva, y uno de los miradores al mar más sobrecogedores que he podido ver.
La cueva está ubicada en un acantilado, es única y sobre todo mágica. Podréis tomar algo por la mañana, ver la puesta de sol o ir por la noche a bailar.
The Cova d'en Xoroi, located in the Cala en Porter in the south of the island of Menorca, is one of those places that when you see it on pictures you think automatically  "I have to go there once in my life".
This atypical place, has differents concepts: bar, disco, cave, and one of the most breathtaking sea viewpoints that I've never seen.
The cave is located on a cliff, it is unique and magical. You will be able to have a drink in the morning, watch the sunset or just go dancing at night.
La Cova d'en Xoroi, situé dans la Cala en Porter au sud de l'île de Minorque, est un des endroits que lorsque on le voit en photos on pense automatiquement " Il faut que j'y aille au moins une fois dans ma vie."
Ce lieu atypique, regroupe plusieurs concepts: bar, discothèque, grotte, et l'un des points de vue les plus spectaculaires sur la mer que j'aille pu voir.
La grotte est située sur une falaise, elle est unique et vraiement magique. Vous pouvez boire un verre le matin, voir le coucher du soleil ou bien aller danser la nuit.
La Cova d'en Xoroi, situata nella Cala en Porter, nel sud dell'isola di Minorca, è uno di quei posti che quando vedi un immagine sempre pensi "Devo andarne nemmeno una volta nella mia vita."
Questo luogo atipico, riunisce diversi concetti: bar, discoteca, grotta, e uno dei punti panoramici più belli sul mare che abbia mai visto.
La grotta si trova su una scogliera, è unica e sopratutto magica. Potete bere qualcosa il mattino, guardare il tramonto oppure andare a ballare la sera.
Compuesto de terrazas pegadas al acantilado que están conectadas por escaleras colgantes, siendo la cueva, el corazón y alma del bar.
Si vais a pasar vuestras vacaciones a Menorca, la Cova d'en Xoroi es, si o si, parada obligatoria.
Durante el periodo estival, hay sesiones de música chill out por las tardes. ¿Se os ocurre un plan mejor?
Terraces are attached to the cliff and connected by hangings stairs, where the cave is the bar heart and soul.
If you are going to spend your holidays in Menorca, the Cova d'en Xoroi is an obligatory stop.
During the summer, there is chill out music sessions every afternoon. Is there a better plan to do?
Plusieurs terrasses sont attachées à la falaise et sont reliées par des escaliers suspendus, dont la grotte est le cœur et l'âme du bar.

Si vous allez passer vos vacances à Minorque, la Cova d'en Xoroi est un arrêt obligatoire.
Pendant l'été, il y a des sessions de musique chill out tous les après-midis. Il y a t-il un meilleur plan à faire que celui-ci?
Terrazze attaccate alla scogliera e collegate da scale appesi, dove la grotta è il cuore e l'anima del bar.
Se andate in vacanza a Minorca, la Cova d'en Xoroi è una fermata obbligata.
Durante l'estate, ci sono sessioni di musica chill out nel pomeriggio. Avete qualcosa di meglio a fare?
Por la noche, cuando la Cova se convierte en discoteca, es usual ver Dj's conocidos internacionalmente así como músicos invitados para acompañarlos. En mi caso trajeron un saxofonista, cuya acústica me asombró
entre las paredes de la cueva, y lo que más fue asomarme a la varandilla del balcón colgante mientras bailaba, escuchar el sonido del mar y ver el cielo totalmente lleno de estrellas.
Creo que jamás he podido disfrutar tanto de una noche de discoteca como esa :)
At night, when the Cova starts to be a club, is easy to see internationally known DJs and guest musicians that go with them. In my case they brought a saxophonist, whose acoustic surprised me between the walls of the cave,
and what I loved the most was to look out of the balcony while dancing, listening to the sound of the sea and watching the sky totally full of stars.
I think It has been one of my best disco nights ever :)
La nuit, quand la Cova devient un club, il est fréquent de voir des DJs renommée internationalement ainsi que des musiciens invités pour leur accompagner.
Le jour que j'y suis allé il y avait un saxophoniste, dont son acoustique m'a énormement surpris entre les murs de la grotte, et le plus impressionnant était de pouvoir danser sur le balcon, en écoutant le bruit des vagues et regarder le ciel complètement étoilé.
Sincèrement une des meilleures soirée en boîte dans des conditions pareils :)
Di notte, quando il club diventa Cova, è comune vedere  DJ di fama internazionale accompagnati di musicisti. Nel mio caso hanno portato un sassofonista,
in cui l'acustica mi ha sorpreso veramente tra le parete della grotta, e ciò che mi ha afascinato di più è stato ballare nel balcone, ascoltando il rumore del mare con il cielo totalmente pieno di stelle.
Penso che non avrei mai potuto godere in una discoteca come quella notte :)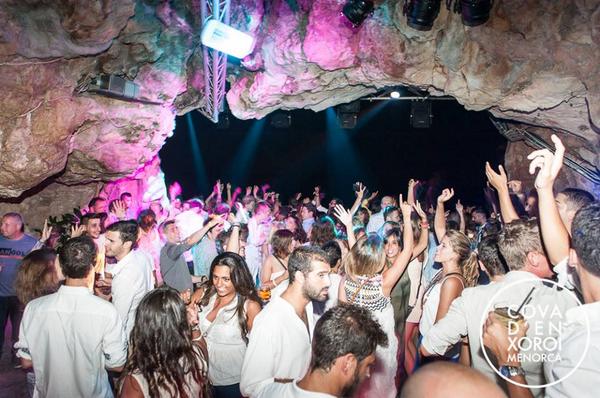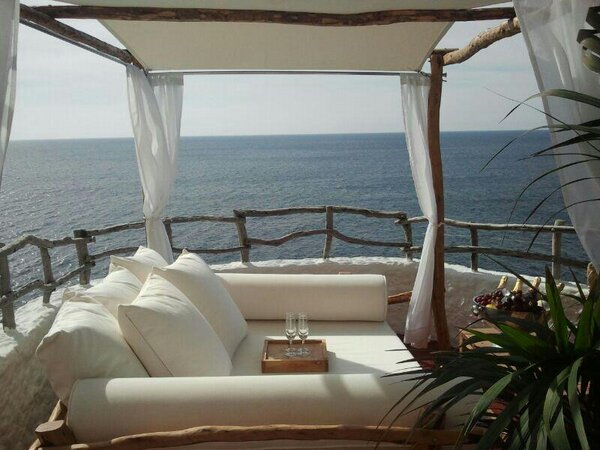 Vayáis a la hora que vayáis hay que pagar siempre para entrar. Os recomiendo que visitéis su agenda en twitter, facebook o instagram antes de ir porque todas las semanas organizan algo.
Los viernes a partir de las 23h, se celebra la white party, en el que el único requisito es ¡ir vestido de blanco!
¿Necesitáis algún motivo más para no asistir?
You always have to pay to go in. I recommend you to visit their agenda first on twitter, facebook or instagram because they organize something every week.
Every Friday at 23h pm starts the white party, where the only requirement is to be dressed in white!
Do you need any other reason to go?
Il faut toujours payer pour entrer. Je vous conseil de visiter leur twitter, facebook ou instagram avant d'y aller car ils organisent plein d'événements toutes les semaine
Tous les vendredi à partir de 23h la white party démarre, où la seule exigence est de s'habiller totalement en blanc!
Avez-vous besoin d'une autre raison pour y aller?
Tutti i venerdì dopo le 23h, si fa la white party, dove l'unico requisito è di essere vestito in bianco!
Avete bisogno di un altro motivo per non andarne?
You might also like