♪ Maxime Le Forestier- San Francisco ♪
Saint Pierre et Miquelon es un destino que guardaré siempre en mi memoria con un especial cariño ya que es dónde pasé la gran parte de mi infancia.
Saint Pierre et Miquelon is a destination that I will always keep in my memory with a special affection because it is the place where I have spent most of my childhood.
Saint Pierre et Miquelon est une destination que je garderai toujours dans ma mémoire avec une spéciale affection, car c'est l'endroit où j'ai passé la plupart de mon enfance.
Saint-Pierre e Miquelon è una destinazione che sará sempre nella mia memoria con un affetto speciale perché è dove ho trascorso gran parte della mia infanzia.
Este pequeño archipiélago francés situado a 25km de la costa de Terranova, en Canadá, está compuesto por 3 islas principales (Saint-Pierre, L'Anglade y Miquelon) y decenas de pequeños islotes. Todas ellas pertenecen a los Departamentos de Ultramar Franceses (DOM-TOM) y por tanto se rigen bajo las leyes de Francia así como tienen el € como moneda.
Saint Pierre es la isla más pequeña de las 3 y a su vez la más poblada. En cambio Miquelon y Langlade están separadas únicamente por un largo estrecho de arena de 25km en el que se disputa una carrera a pie cada año. Este evento deportivo atrae cientos de participantes.
This small French archipelago situated 25km away from the coast of Newfoundland, in Canada, is composed of 3 main islands ( Saint -Pierre, Miquelon and L' Anglade ) and dozens of small islands. They all belong to the French Overseas Departments (DOM – TOM ) and therefore are governed by the laws of France and have the € as currency.
Saint Pierre is the smallest and also the most populated of those 3 islands. Instead Miquelon and L'anglade are only separated by a sand isthmus of 25km where every year a half marathon is held. This sporting event attracts hundreds of participants.
Ce petit archipel français situé à 25km de la côte de Terre-Neuve, au Canada, est composé de 3 îles principales (Saint- Pierre, Miquelon et L' Anglade) ainsi que de dizaines de petites îles. Elles appartiennent aux DOM-TOM et sont donc régis par les lois françaises et ont le € comme monnaie.
Saint Pierre est la plus petite ainsi que l'île la plus peuplée des 3. Miquelon et L'Anglade sont unies par un isthme de sable de 25km dans lequel une course à pied a lieu chaque année. Cet événement constitue un moment sportif et festif qui attire quelques centaines de participants.

Questo piccolo arcipelago situato 25 chilometri dalla costa di Terranova, in Canada, è composto da 3 isole principali (Saint-Pierre, Miquelon e L' Anglade ) e decine di piccole isole. Tutte appartengono ai dipartimenti francesi d'oltremare (DOM – TOM) e, pertanto, sono governati dalle leggi Francese e hanno l' € come valuta.
Saint Pierre è la più piccola e anche quella più popolata dalle 3 isole. Invece Miquelon e L' Anglade sono unite per un istmo di sabbia di 25km in cui si svolge ogni anno una corsa a piedi. Questo evento sportivo attira centinaia di partecipanti.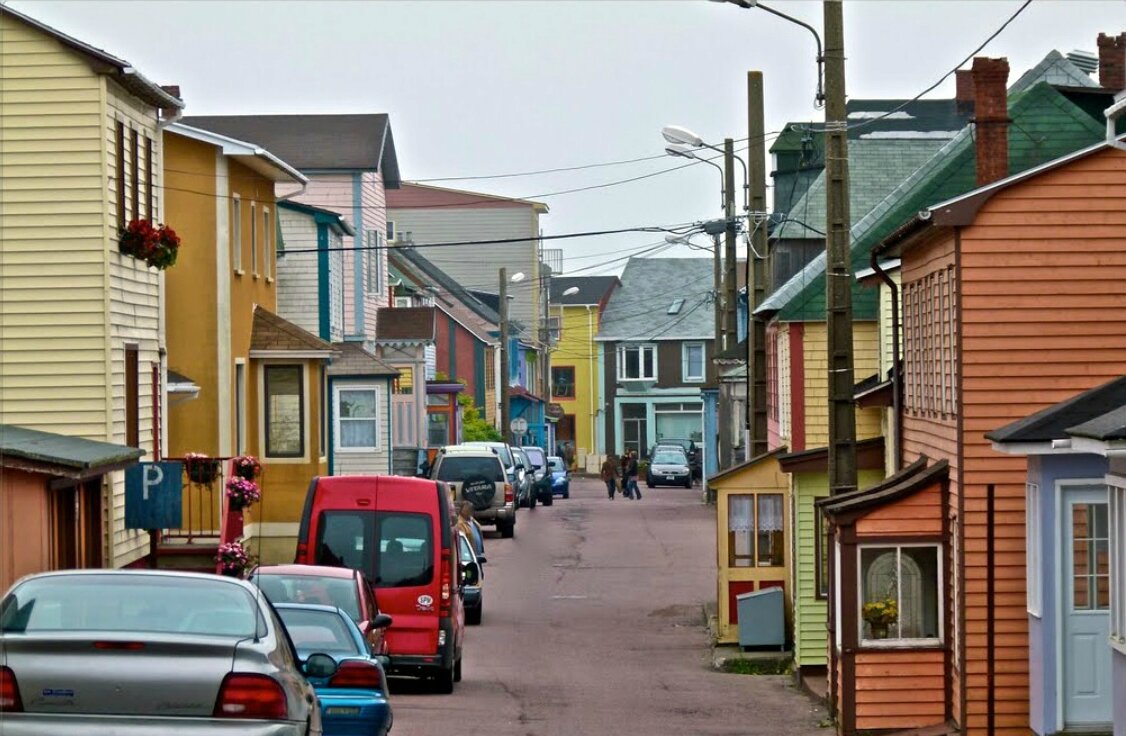 El clima es húmedo y ventoso, con inviernos largos y fríos pero realmente maravilloso para los niños. La nieve pasa a ser el motivo principal de juego, en el que pasar horas construyendo un iglú en el jardín, ir en trineo a casa de amigos o construir muñecos de nieve, son una auténtica aventura.
La primavera y principios de verano son algo frescos y nublados y en ocasiones soleados. En esta época del año se avistan desde la costa ballenas que migran desde Groenlandia. Una actividad maravillosa cuando eres tan solo un niño y empiezan a gustarte los animales.
Aunque mi actividad preferida era sin duda ir en zodiac hasta la Île aux Marins, situada justo en frente de Saint Pierre y pasar allí el día (siempre y cuando el tiempo lo permitiese, claro).
Climate is humid and windy, with long, cold winters but perfect for children. Snow becomes the main reason to play, in which spend hours building an igloo in the garden, visit friends going on a sleigh or build snowmen, are an amazing adventure.
Spring and early summer are somewhat cool, cloudy and sometimes sunny. At this time of year the whales that are migrating from Greenland are sighted from coast. A wonderful activity when you're just a child and begin to love animals.
Although my favourite activity was certainly go to the Île aux Marins by zodiac, located right in front of Saint Pierre and spend the day there with a picnic (if weather leaves us, of course).
Le climat est humide et venteux, avec de longs et froids hivers mais vraiment merveilleux pour les enfants. La neige devient la principale raison pour jouer, dont passer des heures en fabriquant un igloo dans le jardin, aller voir des amis en traineaux ou faire des bonhommes de neige, sont toute une aventure.
Le printemps et début de l'été sont un peu frais, nuageux et parfois ensoleillé. A cette époque de l'année les baleines de Groenland en train de migrer sont aperçues depuis la plage. Une activité merveilleuse quand ont est juste un enfant qui commence à aimer les animaux.
Bien que mon activité préférée était certainement aller à l'île aux Marins en zodiac , situé juste en face de Saint Pierre et passer la journée là-bas (si le temps le permettait, bien sûr).
Il clima è umido e ventoso, con inverni lunghi e freddi, ma davvero perfetto per i bambini. La neve diventa il motivo principale per il gioco, in cui spendere ore a costruire un igloo nel giardino, andare vedere gli amici in una slitta oppure costruire un pupazzo di neve, sono tutta un'avventura.
La primavera e l'inizio dell'estate sono ancora un po ' freddi, nuvoloso e a volte soleggiato. In questo periodo dell'anno le balene che migrano da Groenlandia sono avvistati dalla costa. Una splendida attività quando sei solo un bambino e inizi a amare gli animali.
Anche se la mia attività preferita era certamente andare alla Île aux Marins in zodiac, situato proprio di fronte a Saint Pierre e trascorrere la giornata lì (se il tempo lo permette , ovviamente).
En los largos meses de invierno todos los niños de la isla practicábamos los 2 deportes por excelencia favorecidos por el clima: hockey y patinaje sobre hielo. Los fines de semana, a parte de las clases en la pista de hielo, nos reuníamos en casa de un señor que tenía una pista de hielo en su jardín para pasar el rato y divertirnos.
La vista de icebergs era frecuente en los meses más fríos, haciendo más complicada la pesca, actividad principal del archipiélago.
During the long winter months, most of the children practices 2 sports favored by the cool weather: hockey and ice skating. On weekends, we used to go at a man's house who had an ice rink in his garden to hang out and have fun.
The sight of icebergs was prevalent in the colder months, making fishing very difficult, which it is one of the main activities in the archipelago.
Pendants les longs mois d'hiver, la grande majorité d'enfants pratiquaient l'un des 2 sports les plus favorisées par le climat: le hockey et le patinage sur glace. Le week-end, après les cours à la patinoire, nous allions chez une monsieur qui avait une patinoire dans son jardin. On s'amusait vraiment.

Les mois les plus froids on pouvait voir des icebergs, ce qui rendait la pêche (une des activités principales de l'archipel) très difficile.
Nei lunghi mesi invernali, quasi tutti i bambini praticavano 2 dalle sport per eccellenza favorizzate dal clima: il hockey e pattinaggio sul ghiaccio. Nei fine di settimana, fuori dalle classi nel ghiaccio, ci andavamo a casa di un uomo che aveva una pista di pattinaggio nel suo giardino. Ci divertiamo un sacco.

La vista di iceberg era prevalente nei mesi più freddi, quello che rendeva la pesca (una delle attività principale dell'arcipelago) abbastanza difficile.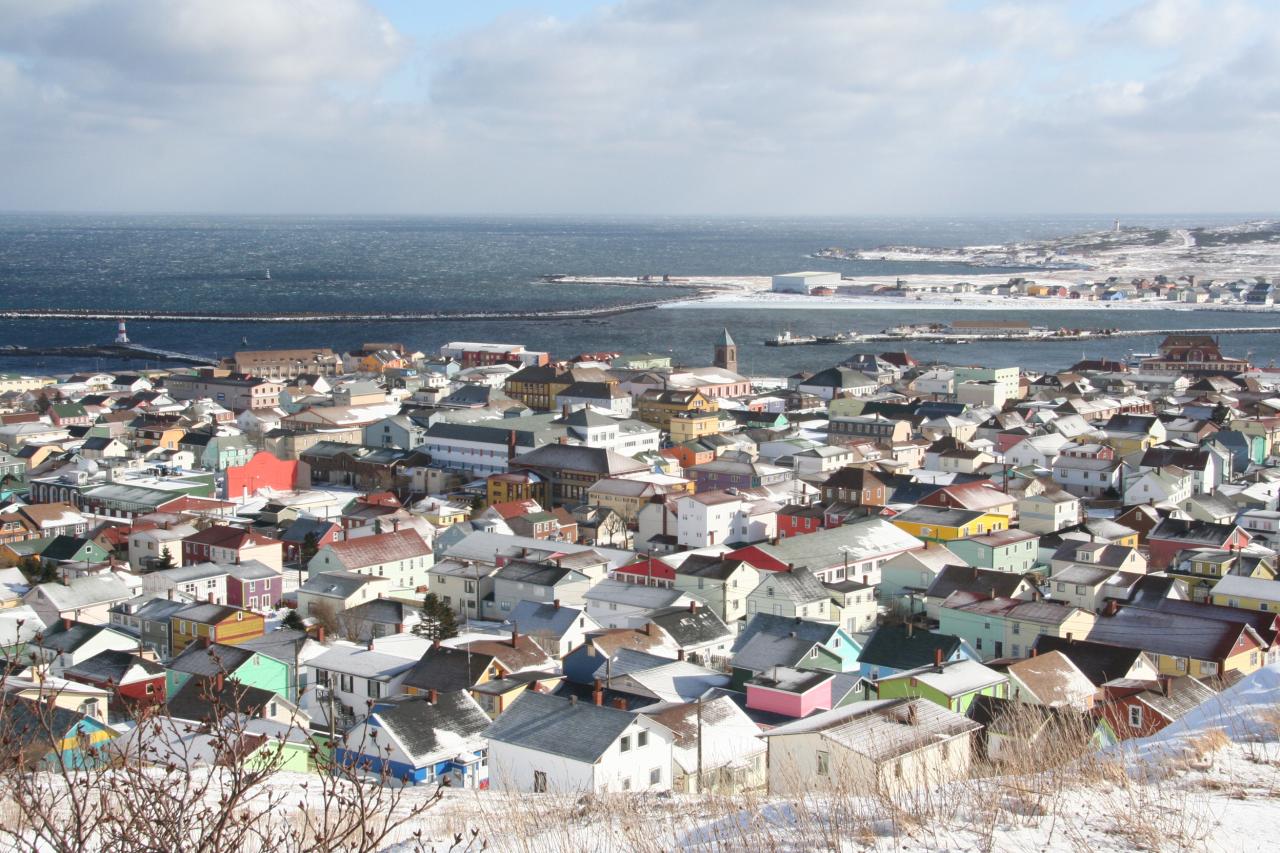 Saint Pierre et Miquelon es sin duda un destino fuera de lo común en las guías turísticas pero de una naturaleza y belleza salvaje indescriptible.
Saint Pierre et Miquelon is certainly an unusual destination of every tourist guide but an indescribable wild nature and beauty.
Saint Pierre et Miquelon est certainement une destination inhabituelle dans les guides touristiques, mais d'une nature sauvage et beauté indescriptible.
Saint-Pierre e Miquelon è certamente un destino insolito nelle guide turistiche, ma di una natura veramente selvaggia e di una bellezza indescrivibile.
You might also like